The Experience Senegal Program© receives independent learners – students, researchers, development workers, missionaries and the military… – and increases their effectiveness by strengthening their communication skills as well as their cross-cultural sensitivity. Independent students cover the costs of travel, food and lodging as well as tuition. Our unique approach to language training is based on 25 years of experience teaching languages in Senegal. We focus on oral/aural language skills. Our main goal is to strengthen each student's ability to speak and understand their target language. Reading and writing are included to support the development of speaking and listening skills.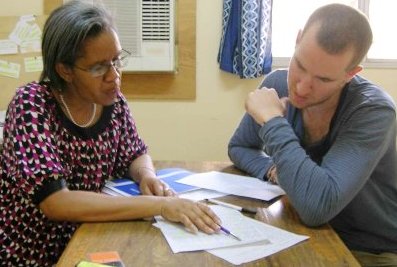 Our experienced instructors provide students with personalized, interactive classes ranging from individual tutorials to small groups (maximum of six students) to rapidly maximize their speaking and comprehension skills. Course content is adapted to respond to the interests and meet the unique needs of each student, regardless of his/her current skill level in the language. More about language classes in addition to their language courses, independent learners can request that homestays, cross-cultural orientations, academic subjects, thematic visits or excursions, or other specific activities be included in their programs.
A Description of Baobab Center Language Classes
Language courses range from intensive instruction (5 hours per day, five days a week) to less arduous schedules. Classes are organized based on requests, and class schedules are designed to respond to the specific linguistic and professional needs of the students. From 1 to 6 students with comparable language levels can form a class. A limit of 6 students per class allows ACI instructors to provide greater individual attention and lots of speaking and comprehension practice for each participant. Classes take place at ACI's Baobab Training and Resource Center, a comfortable, homey setting conducive to serious study and friendly contact and communication with other students and Senegalese staff. Orientation to Africa and cross-cultural information and training are routinely integrated into the language program and more detailed orientations and excursions can be organized upon request.